100 golfers for Namulonge Equity Open as sponsors commit sh30m for the event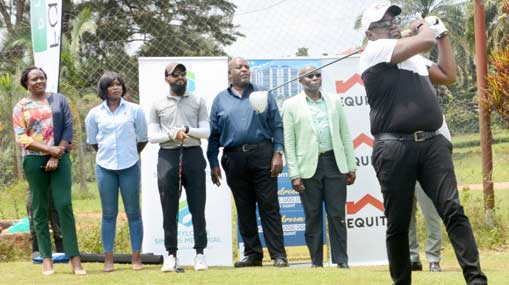 The two-day event that was launched on Tuesday will be played under a conservation campaign facilitated by Equity that will provide 10,000 trees to be planted on the Namulonge course. …
George Kato (right) tees-off during the launch of the event as Charity Atuhaire (left), Jemima Akatekit, Haidry Qusai of Fakhruddin Properties, Leon Byereeta and chairman Martin Nsubuga look on
Over 100 golfers will take to the Mary Louise Simkins Memorial Golf Course, Namulonge on Friday and Saturday for the Namulonge Equity Open.
The two-day event that was launched on Tuesday will be played under a conservation campaign facilitated by Equity that will provide 10,000 trees to be planted on the Namulonge course.
George Kato, the head of business Equity Bank who represented the managing director Samuel Kirubi said they have been committed to supporting Namulonge since 2019 and will continue to ensure the game spreads to many people.
Kirubi hailed the co-sponsors and the club that has ensured that the game continues to grow and wished all the golfers good luck over the two days.
"Equity and golf share a culture which is centered on professionalism, integrity, innovation, respect, unity of purpose and we are extremely excited to become the anchor sponsors of the Namulonge Open and we pray that it remains like this forever," Kirubi stated.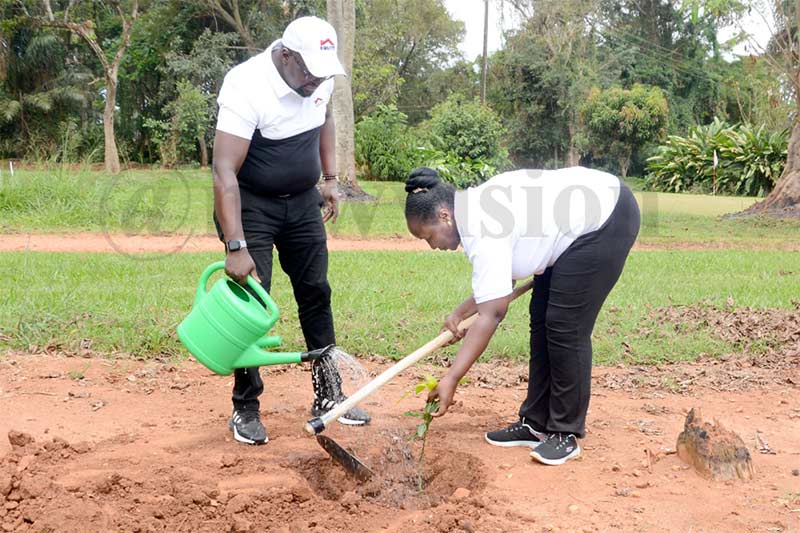 "We will continue to strengthen our partnership and we will support other tournaments to deliver this spirit to the golfers, communities and individuals throughout the country through successful tournaments.
"Equity has shown strong commitment to the game by supporting several tournaments across the country that shows that we are there to support golf. We are also committed to conserving the environment through our energy and environment pillar. We promote conservation and smart use of natural resources by expanding forest cover, improving water security and promoting the use of renewable energy," Kirubi noted.
Martin Nsubuga, the chairman of the Mary Louise Simkins Golf Course Namulonge said the two-day event returns in a bigger and better way with bigger and better prizes.
"We expect many people to come on both days, so we welcome everyone from all over the country to come and enjoy with us," Nsubuga said before he thanked the sponsors; Equity, Kachain Logistics, NBS Sport, Pepsi, and Fakhruddin Properties for committing to the event.
Haidry Qusai the director sales and marketing Fakhruddin Properties said they had come on board to promote the talent of Ugandans and that it was a moral and social responsibility for corporate companies to support the sports talent in Uganda, noting that is why they have been in a long partnership with Namulonge where people can learn the game.
Pepsi's Jemima Akatekit has had a long partnership with Namulonge and we are proud to support them in this open with all their brands and praised Namulonge for keeping the momentum going.
The club captain Collins Bulafu said their wish as a club was to see the tournament grow into a 72-hole amateur world-ranking tournament from which golfers can earn points.
He said the tournament will have the single handicapped golfers play 36 holes while other golfers will join the fray on Saturday for an 18-hole round.