Here is why Kira-Kasangati Road is a rapidly growing area in Kampala and an ideal place to own property.
The Kyaliwajjala–Kira–Kasangati–Matugga Road, also Kyaliwajjala–Matugga Road or Kira–Matugga Road, is a road in the Central Region of Uganda, connecting the neighbourhood of Kyaliwajjala, in Kira Municipality in Wakiso District, to the town of Matugga, also in Wakiso District. This road is part of the 101 kilometres Kampala Outer Beltway Project.
It is a strategic location that connects to different rapidly growing areas in Kampala along and surrounding it as it starts at Kyaliwajjala, along the Kireka–Namugongo Road. It proceeds in a north-westerly direction to Downtown Kira. From there it continues north-westwards to Kasangati. At Kasangati, it crosses the Kampala–Gayaza Road and continues through Nangabo and Kiti, to end at Matugga, on the Kampala–Gulu Highway, approximately 20 kilometres from where it began so clearly it will slow down the traffic flow with in Kampala. and Wakiso roads.
This road is already under construction and from UNRA reports, the work includes widening the road to single carriageway standard. Five road junctions at Kyaliwajjala, Kira, Kasangati, Kiti and Matugga will be improved and equipped with traffic signals. Each side of the road will get a bicycle and pedestrian lane. Automated solar security lights are to be installed along the entire 20 kilometres of the road as well as up grading the road to class II bitumen standard with shoulders, drainage channels, and culverts which will bring about rapid and organized development to the neighborhoods.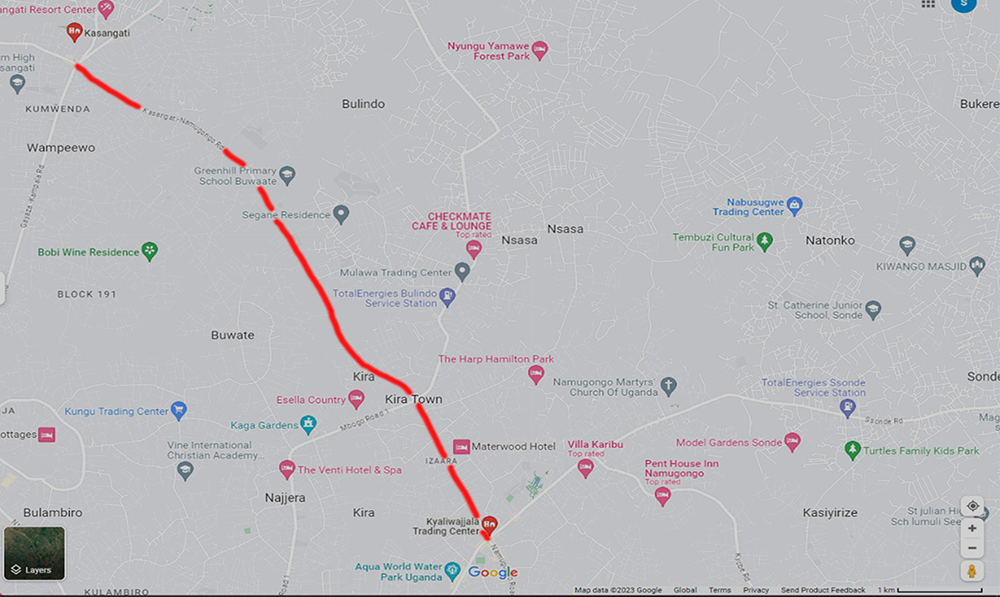 The road is a busy transport corridor in northern Kyaddondo County, linking rapidly expanding residential neighbourhoods like Najeera, Kira, Kyaliwajjala, Bulindo that are fast becoming economic hubs for startups and big business enterprises so it will definitely open up booming business opportunities for the local population.
There are lots of public amenities along this road and surrounding areas that will make hustle free for many residents that include public transportation, markets, leisure parks, schools, shopping centres, health centers, schools among others.
The area is peaceful and tranquil and the surrounding has lots of virgin lands available for settlement that offer an idyllic and serene environment that is conducive to family living or peaceful retirement giving room for organized developments and eye-catching views that make it the ideal place to own a home.
Overall, with such developments in the future, clearly this location will have a high potential for capital appreciation for investors dealing in investments like rentals which will prosper financially due to being a highly desirable location by tenants and if reselling such features can definitely increase the property values in the area and bring in returns like gangbusters.
So if looking for profitable and sustainable regional property investments, Kira -Kasangati Road is where to search.
Please note that many of the facts have been sited from the UNRA plans for this road construction project.